Momm and Popp Residency For Parent Artists

Popps Packing is a family operation and we always welcome artists with children. We currently cannot provide financial support but will do our best to support with resources, community, childcare and facilitation. Momm and Popp Residency applications are accepted year round and encourage you to apply.
Apply here
MOMM AND POPP RESIDENCY PROGRAM

Mounts and Marvels at Popps Emporium by Isamu Krieger (Momm and Popp Resident '16) 
As parent artists ourselves, we know how difficult it is to maintain a practice and raise a family. We are fortunate to have created an environment in which our life, art and community are all interwoven. Launched in 2016, The Momm and Popp family residency invites parent artists into our unique arts ecosystem, to explore hybrid forms of life and work, in which children can become an intrinsic part of the workspace and creative experience. 
Families are housed in the newly renovated Popps Emporium, a 2 bedroom apartment across the street from Popps Packing and adjacent to our workshop and expansive green spaces. Popps Emporium is equipped with all the basics for small children (baby gates, playpen, crib, toys and books) and Popps staff can help coordinate childcare when needed.
---
Previous Momm and Popp Artists In Residence
Momm and Popp SAF Fellow 2019
Artist: Regine Rode accompanied by Husband Florian Schanze and daughter Lilou.
Regine Rode's residency exhibition Floral Hygiene, in Popps Emporium.
Rode is an Artist from Munich Germany currently working with sculpture and installation.
She received her MFA in Fine Art from Otis College of Art and Design Los Angeles in 2016 and her Diploma in Fine Art from the Akademie der Bildenden Künste Munich where she studied with Professor Markus Oehlen from 2009-2014.
Her works are rooted in a traditional sculptural practice yet seek to challenge and disrupt familiar traits. Her installations often consist of multiple autonomous elements creating a unique landscape which always finds a link to her current surrounding environment.
During her time in Los Angeles Regine began working with concrete and experiencing with different shades of grey of this material. She tries to recognize and imitate a certain effect created by concrete surroundings in different geographic locations.
Her work has been exhibited internationally in Galleries and Institutions such as the Goethe-Institut Munich, YGREC Gallery at Cité International des Arts Paris, Los Angeles Municipal Gallery, Helen and Abraham Bolsky Gallery Los Angeles, Spor Klübü Berlin, ROM Copenhagen, etc.
Momm and Popp SAF Fellow 2018
Artist: Garlia Cornelia Jones-Ly and Family
Native Detroiter and Momm and Popp Sustainable Arts Foundation Fellow, Garlia Cornelia Jones-Ly  is a talented writer, producer, photographer and a mother of  two, currently living and working in New York. Garlia founded Blackboard Reading Series, a monthly series devoted to Black Playwrights in September of 2008, incubated by the cell, a performance space in Manhattan's Chelsea. She is an OBIE Award winning Theatre producer with Harlem9, the producing collaborative responsible for "48Hours in…™Harlem" and "48Hours in…™EL BRONX". Garlia holds an MFA in Playwrighting from The New School for Drama, and an MA in African American and African Diaspora Studies from Indiana University. Her essays and articles have appeared in The New York Times, The Washington Post, Howlround and Salon.com.  She is also a member of The Dramatists Guild of America.
During her residency, Garlia wrote a short "fictional" playwright that touched on her own personal narrative of growing up in a city such as Detroit that is in a state of rapid social and economical change. She conducted a seated reading of her script, casting local actors and actresses. Her reading was heavily attended by both new friends and family and concluded with a short, conversational, critique of her piece.
---
Momm and Popp Residency 2017
Artist: Kaitlynn Redell and daughter Rosie
Kaitlynn Redell, a visual artist based in Los Angeles, CA. She received her BFA from Otis College of Art and Design in 2009 and her MFA from Parsons the New School for Design in 2013. Her practice is invested in the exploration of race and gender in relation to the body and how the body becomes codified within these socially constructed categorizations.
The 2017 program is made possible with support from the Sustainable Arts Foundation.
Kaitlynn Redell, not her(e) Table, 2017
Kaitlynn lead a wonderful workshop, not her(e)  for local caregivers and children as part of her residency. So much about becoming a parent or a full-time caregiver is about becoming a tool, a piece of furniture, a physical, emotional, psychological support for a small, growing human. What does it mean to enter into this role? How has your identity as an individual changed? Based on group discussion on our collective feelings on caregiving, participants made wearable objects(prototypes) that both function as a useful tool in our everyday routines."
Kaitlynn also wrote a nice piece about what to expect from our residency for Cultural Reproducers.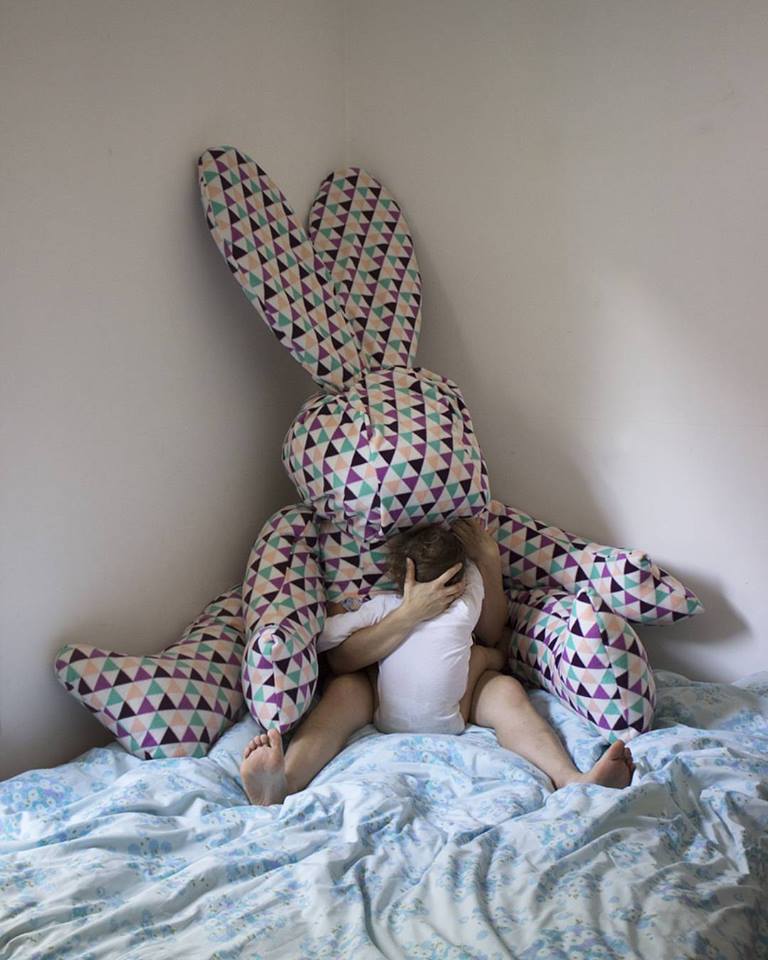 Kaitlynn Redell,  not her(e) (stuffed animal), 2017
---
Momm and Popp Residency 2016
Artists: Isamu Krieger and Marion Neumann and daughter Frida.
Isamu Krieger and daughter Frida in the Popps Emporium Studio
Marion Neumann (Momm and Popp AIR '16)  and daughter Frida in the Popps Community Garden.