2023  Current
Amy Boulton ( b. 1992, Huddersfield, UK)
Artist and inter-dependant researcher based in Gothenburg, Sweden
Amy Boulton (b.1992 Huddersfield, UK) is an artist and interdependent researcher based in Gothenburg, Sweden. Boulton's practice investigates urban space, technology and feminist theory. Her projects combine these research interests, articulating the embedded connections between them. She works both independently and collaboratively with artists and people with backgrounds in architecture, urban planning, interaction and game design.
In 2022 she was a participant of the Of Public Interest transdisciplinary postmasters studio/lab at the Royal Institute of Art Stockholm, and has previously completed an MFA in Fri Konst at the Valand academy Gothenburg and BFA in Intermedia Art at Edinburgh College of Art.
---
2022
Fall Residents:
Taylor Simone is an artist, organizer, and educator from Metro Detroit, currently living and working in Toledo, Ohio. She received her MFA in Visual Communication from Virginia Commonwealth University in 2019 and currently works as an International Network Coordinator for the Design Justice Network. Simone is also the director/organizer of Exodus: School of Expression, an alternative space for BIPOC educators and artists to deepen their practice. Simone has exhibited Internationally in South Korea, Berlin and Italy.
Aino Aksenja is an artist who looks for escape routes and tries to grow roots. Life and art intertwine in works that are site-specific installations, made-up rituals and stories. Aksenja often works with a camera. She studied photography in Sweden, Germany and Finland and fine art in Helsinki, Finland, completing her MFA in 2017. In 2021 she started studying landscape architecture, with the aim to connect art, landscape and architecture in her practise. Aksenja is based in Helsinki, and her works have been shown in Finland, Sweden, Russia, Germany, Portugal, USA and South Korea.
---
Summer 2022
Julian Pozzi (NYC), earned a BFA at the University of Texas at Austin and an MFA at the California Institute of the Arts. He is a current member of The Painting Center in New York City, and has had solo shows at 1234 Gallery (LA), Jeff Bailey Gallery (NYC), and Songs For Presidents (NYC). He has participated in group shows at White Columns and Atelier Cardenas Bellanger (Paris), among other venues. His work has been written about and reviewed in the New York Times, Art and Antiques, and Particules Journal. His studio was recently featured on I Like Your Work as part of their featured studio visit series.
Julian's most recent paintings are based in part on images of naturist resorts and hotels that have been culled from internet searches. The paintings use a formal, gridded language that draws upon mosaics, drawing, and science fiction in equal measure. The hotels, resorts, and other naturist spaces are rendered in various degrees of fidelity, with an attention that wavers from faithful reproduction of salient architectural details to outright improvisation that often veers into anthropomorphization.
---
Spring 2022
Oda Haugerud is an artist based in Gothenburg, Sweden who is wrapping up a two month residency at Popps. She mainly works with sculpture investigating intimate aspects of industrial matter, often through site specific installations. Learn more about Haugeruds work here.
---
Winter 2021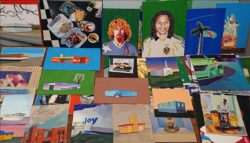 Johan Melander (b. Norrköping, 1988) holds a Bachelor in Fine Art from Bergen Academy in art and design and a Master in Fine Art from Valand Academy. He has exhibited in Amsterdam, Brussels, Bergen, Oslo, Los Angeles, Stockholm, Helsinki, Malmö, Gothenburg and Norrköping among other places. His work usually consists of figurative painting, sculpture, drawing, installations and various collaborations with other artists.
johanmelander.se @jjohanmelander

---
2020 (update coming soon)
2019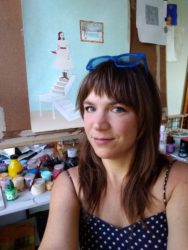 Kyla Rafert is currently living on her homestead south of Columbus, Ohio, raising her two toddlers, and carving out time for art every moment she can find.is the recipient of numerous fellowships and awards, with residencies at the Virginia Center for Creative Arts, the Vermont Studio Center and Women's Studio Workshop, among others. Her work has received national recognition by New American Paintings, American Art Collector, and elsewhere. She received her B.F.A. from Rhode Island School of Design and her M.F.A. from the University of Wisconsin, Madison where she studied printmaking on a full scholarship. She also tends  a garden, goats, chickens, a dog, and sometimes sheep and turkeys (until she ruthlessly eats them).
---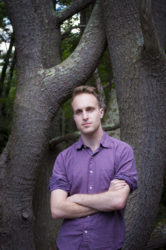 Eli Sobel makes work and installations out of wood, ceramics, prints and photographs in which storage and appropriation are the subject matter. He has shown within the United States as well as the Netherlands and Germany, and most recently at Space Gallery in Portland, Maine. Currently he lives and works in the New England region. Sobel has studied at the Gerrit Rietveld Academie (BA), The Maryland Institute College of Art (BFA), and The School of the Art Institute of Chicago.
---
Sadie Nielsen(BC) is an  artist who currently lives and works on the unceded coast, Salish territory of theLekwungen and W̱SÁNEĆ nations, otherwise known as Victoria, Canada.  She graduated with a Bachelor of Fine Arts from the University of Victoria in 2019.  Her evolving practice is focused primarily in acrylic paint, drawing, and textile sculpture and seeks to extend across the vast array of media and encompass subject matter pertaining not only to tensions within facets of the human experience but to our relationships and responses to the world around us. 
Sadie's work seeks to unpack humanity's niches and stereotypes in order to create a conversation about empathy, especially towards those most resistant to the idea of vulnerability. She has participated in a number of group exhibitions in Victoria, Calgary, and Vancouver, including the University of Victoria's 2019 graduating exhibition and Integrate Arts Festival in Victoria.
Sadie spends her summers planting trees in northern Canada and in her spare time enjoys swimming laps and solving crosswords.
---
Leslaw Tetla (PL) studied architecture at the Technical University of Silesia in Gliwice and art the The Academy of Fine Arts in Krakow. He currently works as an Associate Professor at the Academy of Fine Arts in Katowice, where he is the head of the Interdisciplinary Practice Studio.
Tetla works in painting, installation and site-specific work, exploring the influence of architecture and the behavior of its users and is the initiator and curator of many artistic projects and exhibitions such as; Chiosc at  Rondo Sztuki Gallery in Katowice, Space as a Tool for Shaping Social Attitudes at the Natural history Museum in Chisinau, Moldova, and Last Shot at the Silesian Museum in Katowice, to name a few. He has received scholarships from The Minister of Culture and Art, and the Tadeusz Kulisiewicz Foundation, awarded a prize from the XXIII Festival of Polish Contemporary Painting in Szczecin, and in 2016 was the Cleveland State University Visiting Polish Scholar and Kosciuszko Foundation Fellow.
Tetla has presented his work at numerous individual and collective exhibitions in Poland, Germany, Switzerland, England, Belarus, Moldova, and the USA.
---
Regine Rode creates work rooted in a traditional sculptural practice yet seeks to challenge and disrupt its familiar traits. Her installations often consist of multiple autonomous elements creating a unique landscape which always finds a link to her current surrounding environment. She received her MFA in Fine Art from Otis College of Art and Design Los Angeles in 2016 and her Diploma in Fine Art from the Akademie der Bildenden Künste Munich. 
During her time in Los Angeles Regine began working with concrete and experiencing with different shades of grey of this material. She tries to recognize and imitate a certain effect created by concrete surroundings in different geographic locations.
Her work has been exhibited internationally in Galleries and Institutions such as the Goethe-Institut Munich, YGREC Gallery at Cité International des Arts Paris, Los Angeles Municipal Gallery, Helen and Abraham Bolsky Gallery Los Angeles, Spor Klübü Berlin, ROM Copenhagen, etc.
---
Greta Lapcinski joined us from the Twin Cities to be our first Camp Carpenter Artist in Residence. She was with us as a camp counselor and tool-librarian, gate keeper, for the third year of our two week outdoor adventure playground day camp. Greta describes herself as a plant enthusiast with an unreasonable love for eggs.
---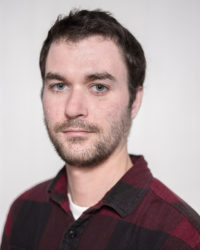 Shawn Bush is a lens based artist who grew up in Detroit, MI, a city whose civic history and geographic location has profoundly influenced the way he thinks about space within the American sociopolitical landscape. He is interested in over-built systems, failing icons and crumbled mythologies. Bush earned an MFA in Photography from the Rhode Island School of Design and BFA in Photography from Columbia College Chicago. He is the recipient of the 2016 T.C Colley grant for excellence in lens-based media. His debut artist book A Golden State won first prize in the handmade category at the 2016 Lucie Photobook Prize in New York City, is included in several noted collections, including the Griffin Museum of Photography in Boston, MA and was published by Skylark Editions in 2018. Bush is the owner of Dais Books and Professor of Photography at Casper College.
---
Carrie Fonder is a sculptor, installation, and video artist whose work uses uses humor to play with issues of power. Fonder earned her MFA in sculpture at Cranbrook Academy of Art and her BFA in sculpture at Milwaukee Institute of Art and Design. In 2010 she was awarded a Fulbright Nehru Award to explore the influence of culture on gender identity via depictions of the feminine in India. Currently, a member of Good Children Gallery in New Orleans, Louisiana, she has exhibited her work nationally and internationally from Detroit to New Delhi. Fonder is an Assistant Professor of Art at the University of West Florida.
---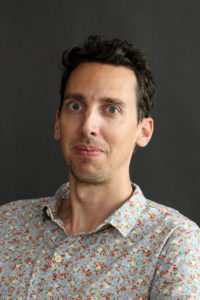 Michael Hubbard, born just outside of Detroit, currently lives and works in Midland, Texas. Working primarily in the mediums of painting and installation, his work aims to create an imaginary architecture of punk feminist history. His work has been exhibited nationally. His most recent solo shows were at 1600 Gallery in Atlanta GA, and Hartnett Gallery in Rochester, NY. He was a 2015 finalist for the prestigious Hunting Art Prize. He received a BFA in Painting from Savannah College of Art and Design, and an MFA in Visual Art from Washington State University. He is currently Assistant Professor of Painting and Gallery Director at Midland College. 
---
Carley Zarzeka builds found object sculptures and installations to investigate the standardization of construction materials in the United States and their relationship to the domestic space. Utilizing strategies of juxtapositions in assemblage that highlight lines, gravity and balance, Zarzeka calls attention to the objects' material and formal qualities rather than their initial function. By intentionally sourcing genetic objects, her work simultaneously operates on both a universal and personal level. Her work has been exhibited at The Ackland Art Museum (NC), The Trout Gallery (PA), and The Cleve Carney Gallery (IL), amount others. Most recently, Zarzeka exhibited in 215/610 Contemporary, juried by Jean Shin and was awarded Second Place. 
Zarzeka received her MFA at the University of North Carolina, Chapel Hill and was awarded Top MFA prize by Diego Cortez. She is currently a nomad, making work where she can find an open table, and attending residencies throughout the United States. 
---
Gabrielle Egnater was born in Los Angeles, California to a family of printmakers and lighting designers. She transplanted to Chicago to pursue a BFA in Sculpture at the School of the Art Institute of Chicago. During her time in undergrad, Gabrielle interned for the Kohler Arts/Industry Program. After graduation, She remained in the Midwest as a Classroom Coordinator for the Cranbrook Art Museum. She is currently a Metal Shop Technician at the College for Creative Studies in Detroit and Adjunct Faculty for the CCS Community Arts Partnership Program.
Egnater's practice can be described as mini-monuments that embrace oddity, design, craft, gastronomy, and remembrance. Each mini-monument questions what objects can "mark importance" or what object is a "marker of importance". Egnater's newest works aim to allow the audience to place their own memories and desire on the "marker of importance" by creating "adjustable monuments".
---
Ben Burgess
is a multidisciplinary artist based in Melbourne, Australia. Known for his documentary practice, he utilizes photography and writing as a process of cultural understanding. Exercising an anthropological approach his work not only examines what's in front of the lens, but what occurs around the camera. Thus recognizing the performative action of photographing as an integral part of the work. Ben completed a Bachelor of Fine Arts (Photography) at RMIT University in 2016. He has since had solo exhibitions in Australia and participated in group shows both in Canada and Brazil. In early 2017 he took part in an artist residency at Despina in Rio de Janeiro.
---
Karin Karinson (NL) is a sculpture artist, working primarily in clay and incorporating all stages, shapes and forms of the material into her work. Resting in the rivers of glossy glaze, she blends ready-made, found, porcelain objects with self-created sculptures;  shards of people's desires and fantasies, things forgotten, and left behind protrude through a dreamy manifestation of the fragmented natural world.
The correspondence between material object and the personal relationship humans form with them is Karinson's focal point. "…the individual mentally and emotionally incorporates the home and its objects, developing identification between them and the ego – an act that encompasses both aspects of security and self-fulfillment. In the relationship between humans and their environment there is an ongoing interaction where the environment is affected by human needs and values, while in turn the environment affects humans by giving stimulus, safety and comfort."
Karin Karinson joins us for as a Studio Resident for March and April through an ongoing partnership with the Region Västra Götaland, Sweden.
https://www.instagram.com/muchmorelittleless/
---
2018
David Marion lives in Baltimore Maryland and is a graduate of the College for Creative Studies in Detroit. Marion's sculptural creations explore reciprocal relationships between human activity, technology, and the natural world while referencing microbiology, science fiction, industrial technologies, and the politics of environmental issues.
---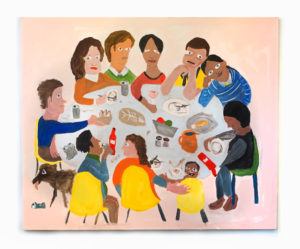 Jordan Sullivan is a writer and artist who divides his time between Los Angeles and New York. His photographs, curatorial projects, and prose have appeared in publications such as The Paris Review, The New York Times T Magazine, The New Yor
ker, Italian Vogue, Featureshoot, Dazed Digital, Dossier Journal, Twin Magazine, VICE, Domino, It's Nice That, Juxtapoz, Third Coast, GUP, Art + Design (China), Secret Behavior, and ELLE. His most recent book Remaining Light, was published by Silas Finch (2016). A number of his artist books were displayed in the 2013 Triennial at the International Center for Photography in NYC. He is the co-founder of the publishing project 205-A.
---
Forrest Hudes is a second generation American woodworker. After receiving a BA in Theater and Dance from Amherst College his creative practice morphed to focus on furniture and domestic design. Forrest has made objects for homes, offices, retail and restaurant interiors, scenic environments, and residential architectural projects in New York and Los Angeles. Forrest has recently moved his practice from Los Angeles to Detroit!

Motivated by the writings of Sara Ahmed on queer phenomenology and objecthood, my current work explores distortions of recognizable furniture objects in ways that invite new emotional engagements with our inanimate environment. While maintaining functionality as primary, I am trying to create objects that are alienating in their mis-contextualized use of materials and completely honest in their construction. Rather than having a root in any one visual or design context, materiality and a common exploration of furniture object as body metaphor unite the pieces of this collection of work. Plywood is a central material, but rather than hide the plied nature of the material (as is done in traditional furniture design) it is highlighted and used as an identity metaphor. By exploring identity structure and emotionality in domestic objects I am seeking a design lexicon that holds the moral values of honesty, queerness, and a de-centering of linear rationality.
---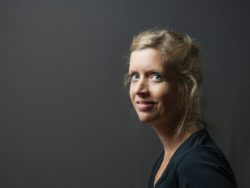 Jeldau Kwikkel (Momm and Popps Residency, NL) is a curator for Paradiso (Amsterdam). Paradiso is an internationally renownedpop venue – and also a podium for classical music, fine art, lectures, contemporary dance and other cultural projects. Jeldau initiates and develops art programmes and exhibitions, including The Small Museum (a 1 x 2ft. museum situated in a cabinet on Paradiso's façade), Liefde in de Stad ('love encouraging' works of art, in public space), and The Infiltration Series (a series of on-site works that challenge our understanding of place.)
Jeldau studied History, and Art History and Aesthetics, at the University of Amsterdam; and Fine Arts, at the Gerrit Rietveld Academy. Before joining Paradiso, she worked for Mediamatic, Amsterdam Museum Night, and Streetlab, a project about street art. She has organised exhibitions in Amsterdam, Istanbul and New York. Jeldau is currently working on 'Putting the Fun back in Fundamentalism': a conference and exhibition about humour in artistic activism.
Laurent DeWolf  is an architect and artist, based in Amsterdam, The Netherlands. Next to his architectural practice, he has realised several works of art in public space. In 2016/17 he was one of the selected artists for the international Amsterdam Light Festival.
Laurent is currently working on his new project 'Hamtramck Super Small', a temporary public art installation, to be built on the empty lot across the street from Popps Packing.  In its most simple form the installation is a scaled down and adapted version of the Hamtramck city plan. The three dimensional wireframe, to be made of yellow rope, defines the outlines of a public space. The city is reduced to a humanly tangible scale, roughly the size of a house. The distinct shape of the Hamtramck municipal borders, like neighborhoods within the city, on the small scale defines areas with different character. These specific corners are rendered, borrowing elements from the concept of the pocket park – a small, public accessible urban park. The waterfall, the pergola and the tiled footpath are abstracted into patterns. In a way they also refer to the Detroit tradition of the graphic mural.
---
Sereina Steinemann is a painter based in Berne, Switzerland. At Popps Packing she is  working on a Buchstabenladen, which translates to Letter Shop.
Arne Scheuermann is a design researcher at the University of the Arts Bern HKB. At Popps Packing he is researching the visual imagery of diversity.
---
Allison Baker earned her MFA in Sculpture from the Rhode Island School of Design, a BFA in Sculpture and BA in Gender Studies from Indiana University.
​Her work investigates hegemonic femininity as a site of transgression and resistance. Allison is contrary, contradictory, and almost always wrong. Currently, she is an Assistant Professor of Sculpture and Studio Art at Hamline University where she tries to impart some knowledge of finesse, persuasion, and manual labor.
---
Jayne Amara Ross is a Franco-Australian poet and film-maker based in Paris France. 
Since 2009 her films have been shown in international festivals and galleries (CCA-Glasgow, MAMCS-Strausbourg, la Cinematheque Francaise-Paris, Six Dogs-Athens, Brisbane Fringe Festival, Trinosophes-Detroit) and she has toured France and the U.K. with the live cinema collective FareWell Poetry. She has released two spoken word albums in the U.K. (Gizeh Records) and her work has been funded by Le Centre Natioal de Arts Plastiques (France).  
---
Mark Penzak is an Australian playwright and performer, creating theatre for children for over 30 years. His productions feature innovative sets and puppets combined with storytelling and physical characterization. That mix is designed to take the audience on a theatrical voyage. "For me, creating a feeling of human-to-human contact and being linked as an audience is the essence of theatre, so I want kids to feel like they can talk to me during the performance and that we're all sharing the adventure together."
​Mark has a BA (Theatre/Media) from Charles Sturt University, followed by further studies with John Bolton, John Wright, Philippe Gaulier and at the Desmond Jones School of Mime in London, and a Master of Design (Film/TV) from Edinburgh College of Art.
---
Norma Jean Haynes (Garden Residency), is a musician and performer based in Cummington, MA. She is committed to exploring traditional and place-­based music in its cultural contexts, and using this research to create new music, performances, and community gatherings. This research has taken her through New England and the southeastern United States, to Bosnia and Herzegovina, to South Africa and throughout the United Kingdom. Norma has worked on numerous garden projects and small farms in her travels and will arrive at Popps Packing on April 15 to help us get our gardens ready for the growing season.  Norma will also host intimate garden performances and other public happenings during her stay. 
---
Eric Magassa, (b.1972) is an artist based in Gothenburg. Magassa spent most of his youth moving back and forth between Gothenburg and Paris with his Swedish mother and French father from Senegalese and Malian descent. As a student, Magassa subsequently lived in London and New York to study at Central Saint Martins and The Art Students League of New York. His works stem from experiments with different media ranging from paintings to drawings, sculptures, collages, videos and textiles. Identity, fetish rituals, abstraction and patterns are often subjects in Magassa's work. This residency is made possible through an ongoing partnership with the Konstepidemin in Gothenburg and funded by the Region Västra Götaland, Sweden.
---
Laura Sennhauser (Zurich, Switzerland) studied Fine Art and Art Education at the University of Lucerne and the Zurich University of the Arts. Laura Sennhauser works with various media such as painting, sketching, video, sculpture and text. In her work, she is interested in everyday absurdity, in questions around finding and losing of the balance of forms, color and content, her approach is an attempt to grasp the world.
---
During her 2 month residency at Popps Packing, Laura will explore her abstract paintings and drawings and attempt to study the cities of Detroit and Hamtramck, a novel foreign environment, through daily explorations during her walks and bicycle rides, allowing the setting to influence and guide her creativity. 
---
Jeremy Xido, Cabula6, USA
Laura Sennhauser Switzerland
---
2017
Peter Rand is an artist working with video,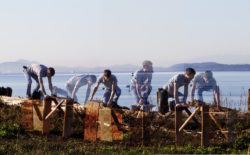 installation, interactive media, sculpture, socially engaged art, and performance. His work focuses on a variety of topics including identity, urban spaces, technocentrism, synesthesia, and the absurd. Peter's work has been exhibited internationally and he has collaborated on public art projects for the cities of Santa Monica, Dallas, and Rome. He has received a BFA in New Media Art from the University of North Texas, and an MFA from the School of the Arts & Architecture at UCLA.
During his one month residency at Popps, Peter will continue to develop his ongoing project,  "A to B", wherein, "toolsets", often taking the form of awkward and precarious steps, are constructed for the purposes of moving forward. Shifting and reassembling the crude sculptures beneath him, the process becomes his supporting system to get him from here to there. "A to B", examines the hard questions of privilege, unpredictability and the unique tools each of us have been given to move forward.
---
Patrick Schlotterback has recently returned from Brooklyn, NY to Baltimore, MD where he was born and attended the Maryland Institute College of Art. Patrick's work uses installation, green screens and videos to communicate via a prism, dividing the source into separate continuous paths. The work interrogates emotional identity and the body's complicity in it's existence, fetishizing ambient acts such as flowing (smoke, water, sand) as metaphors. 
Patrick's focus at Popp's will be making objects for installations and videos, shooting video, and writing voice overs for video works.
---
Gabi Blum (*1979 in Michelstadt, Germany) lives and works in Munich. After some years of training at the Design School in Munich and working as a graphic designer, she studied from 2008 to 2014 sculpture at the Academy of Fine Arts Munich in Prof. Stephan Huber's class, she was part of the project of visiting professor Schorsch Kamerun and for her diploma she developed a re-enactment of a painting by Edward Hopper. 2015 Gabi Blum received the Bavarian Art Award and the Debutantenförderung by the Bavarian State Government and in 2016 and 2017 project fundings by Bernhard-Borst-Stiftung and Steiner Stiftung. This year she is traveling with the USA scholarship of the Bavarian State Government.
Gabi Blum's works combine walk-in installations, performance and painting with video art. Her Performances have a ritualistic quality in which she finds ways of celebrating the end of the world and other chaos scenarios. Additionally, Blum works with ironic images of the stereotypical perception of women, including the secretary, model, cowgirl, snake woman or showgirl.
At Popps, Gabi Blum will be working on her new artist book as well as delving into all things Hamtramck. Her research of the people places and architecture here may culminate in a video project, (maybe romantic) paintings and sculptural tryouts.
Anna McCarthy will be working on the new version of her ongoing project HOW TO START A REVOLUTION (HTSAR) – a multi-layered work that deals with clichés of rebelliousness and humorously lays open the tools of smoke and mirrors audience manipulation. It deals with rebellion in a limbo situation, in which change seems ominent, mirroring the current political atmosphere, specifically centring around the shift from left to right in the Western world. Geographically anchored in Munich and Bavaria, it reaches beyond the local peculiarities and relocates them into the context of historical global events, in this case Hamtramck/Detroit. A microcosm of reoccurring people and places stand in as exemplary figures for global events in a humorous, absurd, and critical manner.
http://www.annamccarthy.de/howtostartarevolution.html.
https://soundcloud.com/annamccarthy-1/sets/how-to-start-a-revolution-the
http://www.editiontaube.de/produkt/how-to-start-a-revolution-special-edition/
Additonally, Anna hopes to work on new non-contextual drawing and painting work in the house, garden and surrounding area, and to collaborate with local musicians in one way or another.
http://annamccarthy.de/drawings.html
Gabi and Anna are long time friends who have a history of working  together, including spending 8 years as bandmates in DAMENKAPELLE. Although they are working on different projects during their time at Popps, they will continue to support each others work.
Links to their collaborative works:
http://www.annamccarthy.de/naendenaendenawida.html
and band:
https://www.facebook.com/DAMENKAPELLE-136729598093/
https://damenkapelle.bandcamp.com/
https://www.youtube.com/watch?v=kkfnBn95DB4
---
Kaitlynn Redell (Momm and Popp Residency) is a visual artist based in Los Angeles, CA.  She received her BFA from Otis College of Art and Design in 2009 and her MFA from Parsons the New School for Design in 2013. Her practice is invested in the exploration of race and gender in relation to the body and how the body becomes codified within these socially constructed categorizations. More specifically she is interested in in-betweeness and how "unidentifiable" bodies—that do not identify with standard categories—negotiate identity. She has participated in numerous exhibitions nationally and internationally including at El Museo del Barrio (NYC), Rush Arts Gallery (NYC), A.I.R. Gallery (NYC), Western Project (LA), Los Angeles Municipal Art Gallery (LA), Charlie James Gallery (LA) and Museo Laboratorio – Ex Manifattura Tabacchi (Italy). She currently has work included in the 32nd Biennial of Graphic Arts: Birth As Criterion, in Ljubljana, Slovenia.
Additionally, Redell has a bi-coastal, collaborative practice with Sara Jimenez. Redell & Jimenez have been engaged in intense collaboration since attending Site + Sight, a visual research project in Beijing, China and The Gobi Desert. Since forming Redell & Jimenez, they have presented their work at Hunter College's Focus and Motivation, and have been published in NYU's interdisciplinary journal Anamesa and in The Brooklyn Rail.
Redell is a frequent teaching artist throughout the Los Angeles area and has lectured and given workshops at institutions including The J. Paul Getty Museum, The Craft and Folk Art Museum, The Brentwood Art Center, The Gamble House (in conjunction with Machine Project) and Pomona College. 
not her(e) Project Description:
not her(e) is a performance-based series where Redell becomes camouflaged and a part of the furniture while performing everyday acts of care for her child.  It explores how life as a caregiver is about being used as well as being invisible.  Redell is the primary caregiver in her family and is interested in how structures of power are set up to produce this particular dynamic of childcare.  She is interested in both the privileged and the problematic aspects of her situation  More specifically, the two very contentious facts that come into play: student loans and gender/occupation salary inequality.  She interested in the duality of feeling grateful, yet uneasy, as she and her partner begin to tumble into such normative roles. 
During Redell's residency at Popps, she plans to further research other parents' feelings on caregiving, be it full-time parents or working parents.  She is interested in their thoughts around the physicality of childcare, gender roles, financial dynamic, outside support (familial or otherwise), etc. and will be holding a caregiver and child workshop that will nurture these discussions through collaborative art making.
The Momm and Popp Residency is made possible with support from the Sustainable Arts Foundation.
---
John Bianchi, New York, USA – (Painting, mixed media sculpture and installation)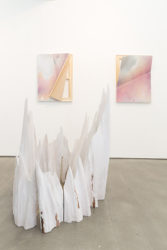 John Dante Bianchi (b.Nashua. New Hampshire) received his BFA from Cooper Union and his MFA from Yale University. He lives and works in Brooklyn, New York. He has exhibited at Galerie Derouillon in Paris, Tyler Wood Gallery in San Francisco, Night Gallery in Los Angeles, Thierry Goldberg Gallery in New York, Signal Gallery in Brooklyn, Kai Matsumiya in New York and David Zwirner Gallery in New York. He has received press coverage in Art Forum, The New York Times, Architectural Digest, Bomb Magazine, Observer, Vice's The Creators Project, ARTNEWS, Interview Magazine, Blouin ArtInfo and Teeth Magazine.
His recent bodies of work – the Bruised Panels, Torqued Panels and Relief Panels- refer in name to the physical process of their making. Bianchi's wall-based works are both sculpture and painting, emerging from the wall or built in many layers and exactingly constructed all the way through, from stretcher to support to surface. Much of Bianchi's work explores the ideation of the pieces as a body (an Object), which is exposed to forces of time and events leaving their mark. The Bruised Panels, for example, are speckled with colors that directly reference skin tones and bruises: pinks and blues and creams. They are built up in layers and sanded down to reveal textures and colors beneath. Bianchi's work encapsulates a sense of time within it, not only in the sense of process, but in some of the materials he chooses, such as recycled redwood ( the world's largest and longest-living trees) to make his freestanding sculptures.
---
James Carey, Melbourne, Australia– (Drawing, painting, sculpture and site responsive interventions).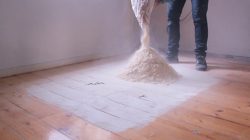 James  Carey (b. Melbourne Australia) received a Bachelor of Design in 2005 from RMIT and PHD  from the RMIT School of Architecture & Design in 2016. Carry's creative practice research explores process-based interventions within decommissioned buildings and gallery spaces. The methodology he engages with is one of working responsively, allowing particular temporal conditions to surface within these sites and situations. The potential of these conditions are then engaged with in ways that do not seek to prescribe an outcome in advance. Sites are inhabited in time, and specific rendering techniques – such as drawing and mark making – are introduced. These situations are then reassembled through a variety of processes, and the marks made materialize immateriality, allowing the residue of particular processes to be assembled as collections of materialized and spatalized time. 
Recent projects and exhibitions include between two homes 2016 commissioned by Hobson's Bay Council and presented by Blackartprojects, sighting 2016 commissioned by MCES and presented by Blackartprojects, to wonder / to wander 2016 in collaboration with Megan Cope and the Culpra Milli Aboriginal Corporation, Mildura Arts Centre, beginning in incompleteness: works in formation 2015 at RMIT Project Space / Spare Room, wall work[ing] 7 2015 at Kings ARI and rendering the [im]material, a visual essay published in the IDEA Journal 2012. James has been the recipient of an Australia Arts Council New Work grant in 2010 and also received an Honourable Mention at the Shanghai Biennale in 2007.
---
Juliette Pepin (Paris, France)– (Social & speculative design and Installation)
Juliette Pépin is a multidisciplinary designer based in Paris. While studying at the Design Academy Eindhoven and doing internships at Intégral Ruedi Baur (Communication – Fr) and Onomatopee (Editorial/Gallery – Nl), she developed skills in a wide range of domains such as communication, conceptual design, research and cultural mediation. She currently works with different institutions such as the Gemeente Eindhoven with her educational project M.O.T.S. ― Social Design Award 2016, as well as a trained communication designer for individuals and institutions."
---
KAMBUI OLUJIMI,  USA
KJELLGREN ALKIRE,  Minnesota
MAISHA BADDOO,  Canada
TALEL, Sweden
MONICA J. BROWN, USA
---
2016
STEFANIE HAMMANN & MARIA VON MIER, GERMANY
CLARA STARCK, DENMARK
MATTHIAS BOHLER & CHRISTIAN ORENDT, GERMANY
EMILY CHAPPELL, SCOTLAND
YI ZHOU, CHINA
FRANZISKA KLOSE, GERMANY
MARION NEUMANN & ISAMU KREIGER, SWITZERLAND
PAUL NUDD, CHICAGO
JEREMY XIDO & FAMILY, NEW YORK
STUDIO PLUSMINUSNULL, GERMANY
LIZA DIECKWISCH,  AE RAN KIM,  JUNGWOON KIM,  KLARA PATEROK, GERMANY
CALDO DE CULTIVO, COLOMBIA
VINCENZO FAGNANI & TANA TORR, GERMANY
CECILIA REBERGEN & JOP VISSERS VORSTENBOSCH, HOLLAND
PATRIC LARSON, SWEDEN
CARLY MANDEL, NEW YORK
2015
ELISABETH WIESER, GERMANY
ALASDAIR DOYLE, AUSTRALIA
LUCY OWEN, UK
MASIMBA HWATI,  ZIMBABWE
FRANZISKA KLOSE, GERMANY
ANNA JANDER,  GERMANY
ULLI BOMANS,  GERMANY
ARTHUR SUMMEREDER,  AUSTRIA
SHANNA MAURIZI,  BROOKLYN
SUSANNAH JO FOSTER,  AUSTRALIA
MARCO FRANCO DI DOMENICO,  LOS ANGELES
LIZA LACROIX , USA
GRACE HERBERT,  AUSTRALIA 
CHRISTIAN KASNERS, GERMANY
MARTINA HANUSOVA, CZECH.
MARLENE HAUSEGGER,  AUSTRIA
SARA LANNERSTROM,  SWEDEN
RON SAUNDERS, USA
2014
ANDREAS PEIFFER,  GERMANY
BARBRO SCHULTZ,  GERMANY
DAVID TRAUTRIMUS,  CANADA
HOTEL CHARLEROI,  BELGIUM
LIAM SLEVIN,  GERMANY
ASHLEY MOON,  USA
ROBIN GOMMEL,  GERMANY
JAMIE NORTH,   AUSTRALIA
WHITNEY SAGE,  USA
LUCY OWEN,  UK
DANIEL SEWELL,  THAILAND
KATARINA SMETS,  BELGIUM
MICKEY MALECK, USA
ALEXEI BULDAKOV,  RUSSIA
ROBBIE ROWLANDS,   AUSTRALIA
2013
BENNY HENNINGSEN,  DENMARK
MARISA FUTERNICK,  UK
ANNA JANDER,  GERMANY
MIKE DIAS,  USA
2012
MICHAEL BIZON,  USA
CHRISTIAN TEDESCHI,  USA
MAX SCHULZE,  GERMANY
IVA CEPANEC & ALEXANDER MASTERS,  CROATIA