Apply here! 
Popps Packing street view
For emerging, mid-career, and established visual artists with a studio based practice who are interested in an immersive experience in Detroit and Hamtramck.
Individual residency fee $700/month: Private bedroom in a 2 bedroom loft style warehouse space with shared studio, kitchen and bath. Includes access to Popps workshops and gardens.
$1400/month includes 2 bedrooms and the entire residency studio. This option is ideal for small collectives and artist couples.
All utilities included: internet access, laundry, sauna, chickens.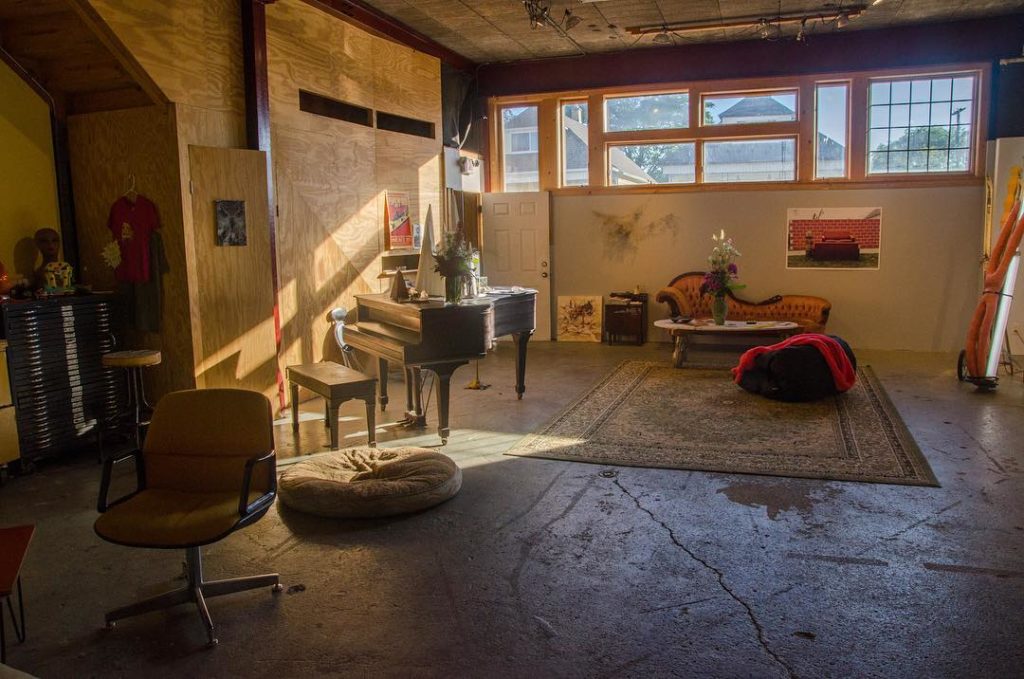 ---
POPPS EMPORIUM RESIDENCY:
Apply here! 
For Individual studio artists, researchers and curators: $500-$700/residency month; For artists families, collaborative groups and collectives: $1000-$1500/residency month.
Two week options are considered on a case by case basis. Residency fees are determined based on studio need and number of participants.
above: Residency apartment, Left: Storefront studio
Popps Emporium is a newly renovated house with attache storefront across the street from Popps HQ. Two residents at a time share this beautiful space that has 2 private bedrooms, a shared living space, kitchen and bath. A community resource space occupies the first floor, complete with a budding design library, meeting tables, and an office. Artists share a storefront studio on the first floor and have access to all of the Popps workshop spaces and gardens. Popps Emporium sits adjacent to the Popps community gardens and various green spaces as well as the new Tool lending library and chicken coop. 
Popps Emporium Storefront on Carpenter.
Around the Popps compound