Popps' fall residents, Taylor Simone and Aino Aksenja invite you to see their works in progress on Saturday October 29th, 6-8pm at Popps Packing!
Aino Aksenja is an artist who looks for escape routes and tries to grow roots. Life and art intertwine in works that are site-specific installations, made-up rituals and stories. Aksenja often works with a camera. She studied photography in Sweden, Germany and Finland and fine art in Helsinki, Finland, completing her MFA in 2017. In 2021 she started studying landscape architecture, with the aim to connect art, landscape and architecture in her practise. Aksenja is based in Helsinki, and her works have been shown in Finland, Sweden, Russia, Germany, Portugal, USA and South Korea.
During her residency, Aino's been working on a new video piece called Stranger. Through placing herself into it, the city slowly starts turning into a playground, St. Aubin Street into a stage. Dreams blend with reality in both this work and the embroidery piece she has begun in residence, Dream city.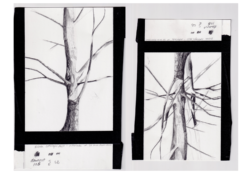 Taylor Simone is an artist, organizer, and educator from Metro Detroit, currently living and working in Toledo, Ohio. She received her MFA in Visual Communication from Virginia Commonwealth University in 2019 and currently works as an International Network Coordinator for the Design Justice Network. Simone is also the director/organizer of Exodus: School of Expression, an alternative space for BIPOC educators and artists to deepen their practice. Simone has exhibited Internationally in South Korea, Berlin and Italy.
Taylor will be showing the progress of her publication, Seeded in Flesh. This space and time have been one of world-building for Simone. Sitting with old and new symbolism that developed throughout their practice, they explore systems of selfhood and portraiture.